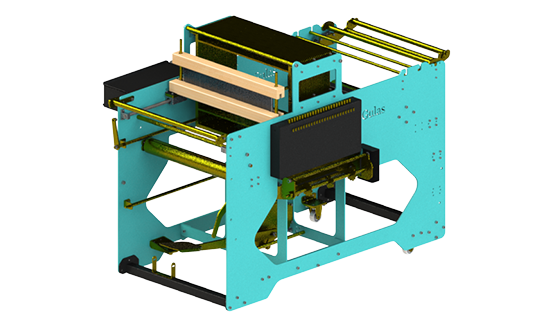 Garm 55 Manual Sample Weaving Machine
Length: 150 cm
Width: 80 cm
Height: 105 cm
Weight: 150 kg
Frame: 24 Pieces
Woven Width: 55 cm
To Educational and Training Schools in Textile
In order to teach the structural characteristics, desing and production phases of woven fabrics in the most practical way,
we have invented and introduced our first product the punch-card dobby loom which is named as GARM 55.
To Fabric and Yarn Producers in Textile
We have invented the GARM 55 to reduce the time and yarn consumptions to a minimum level in your works. Do you
wonder of your yarns produced for weaving in order to see their influences on fabric handle, pattern, real image and
impression for your customers ? The loom GARM 55 makes all these are possible and easy with the least time and
material consuming in order to capture your customer's yarn colours and effects with simple interventions.